Our program is committed to training full-spectrum family physicians from diverse backgrounds who are dedicated to social justice, health equity, and providing care for populations and communities in rural and underserved areas of Arizona and beyond.  
ERAS ID: University of Arizona College of Medicine – Tucson (South Campus) Program
ACGME #: 1200331692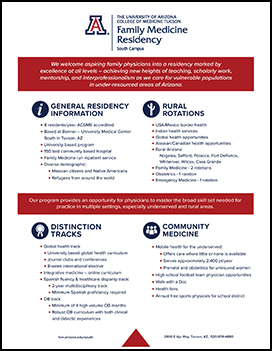 The University of Arizona College of Medicine – Tucson Family Medicine Residency at South Campus provides an opportunity for ambitious physicians to master the broad skill-set needed for practice in multiple settings, especially in underserved and rural areas. Our program is ACGME-accredited. We offer the best of many worlds as we are a university-based program within a community hospital and also have required rural rotations for a very different experience.
Primarily based at Banner – University Medicine Family Medicine Clinic at South Campus, our residency's family physicians are at the center of leadership and patient care. Our training also includes rotations at rural clinical sites throughout the state of Arizona. We also are proud to be part of the University of Arizona, where the Department of Family and Community Medicine is one of the strongest in the nation.
Number of Residents:  8 family medicine residents per year
Length of Program: 3 years
Clinical Experience: Our family medicine clinic and primary inpatient training site is at Banner - University Medical Center South, a few minutes south of the center of Tucson. Inpatient maternity care and pediatric training occur primarily at Banner – University Medical Center Tucson. Our residents also will complete four months of required training at rural sites throughout Arizona.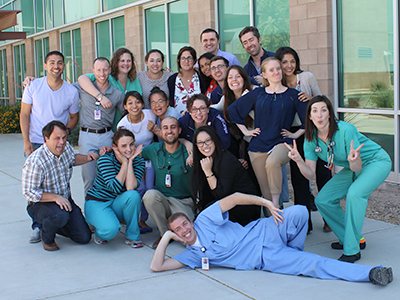 Didactics: Several hours are dedicated to didactical learning every Thursday afternoon during "Teaching Day." There are quarterly global health oriented teaching days and quarterly procedure and mock code workshops. Residents attend morning reports on weekdays.
Research: Our sponsoring Department of Family & Community Medicine is one of the top research departments in Family Medicine in the nation. During their training, residents complete a scholarly project. For any residents wishing to do additional research, there are many opportunities with extensive academic support.
Tracks: Obstetrics Track; Robust Global Health Track; interdisciplinary Health Care Disparities/Medical Spanish Distinction Track, and Integrative Medicine Track
CONTACT INFO
Elizabeth "Kyle" Meehan, MD
Program Director
Elizabeth.Meehan@bannerhealth.com
Lauren Wright
Senior Residency Program Coordinator
Phone (520) 874-4880
lauren.wright@bannerhealth.com