Myles Stone, MD, MPH, Class of 2017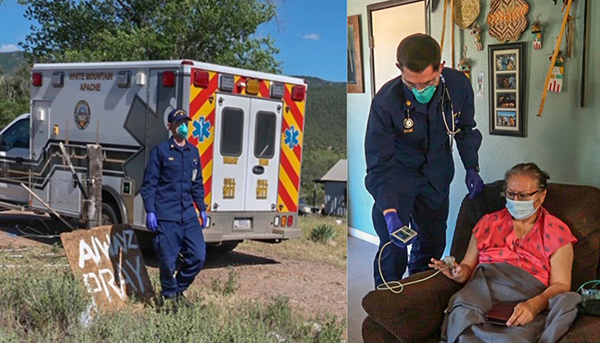 Dr. Stone graduated from our South Campus Family Medicine Residency Program in 2017. He is the COVID-19 High Risk Program Director for the Indian Health Service – Whiteriver Hospital on the Fort Apache Reservation in Whiteriver, Arizona. He recently co-authored an article published in the New England Journal of Medicine, "Contact Tracing for Native Americans in Rural Arizona."


By Myles Stone, MD, MPH
We detected our community's first person to test positive for COVID-19 in early April. I happened to be working in the emergency room that day, and will likely remember the patient's chest x-ray for the rest of my life. Our rural location delayed the virus's arrival, but we knew that it would spread quickly. We had already set up a contact tracing team, so they were ready to go with the first case.
However, we quickly discovered, along with the rest of the world, that the virus spreads faster than it can be traced. Since the asymptomatic and pre-symptomatic periods are so long, many patients will spread the virus to people around them before they know they're infected. So, we evolved our contact tracing program into more of a high-risk home visit program. This evolution occurred just as I returned from a PHS deployment to the Detroit COVID-19 Alternate Care Site.
I had spent the prior month exclusively treating patients with COVID-19, and our lead infection control physician asked me to join his team and do the same for our community. Since then, I've driven nearly 1,500 miles across our reservation, visiting the homes of people who have been newly diagnosed with COVID-19, checking up on them and others in their homes.
Every morning, I review the new cases, and plan out the day's visits based on each patient's risk factors and where they are in the disease course. Our team has now expanded to include a full-time nurse, and another rotating member of the medical staff.
We typically see 40-50 people a day. The days are long for all of us, but this is probably the most enjoyable and gratifying work that I've done in my career.
The broad training and exposure to rural medicine that I received during residency is why I am able to take on this role, and why I am working in this environment in the first place. I feel very grateful to be a UA FCM graduate.
Well done, Dr. Stone—we're very proud of the impact you are making in Arizona and beyond!
---
Naomi Young, MD, Class of 2016
 

Naomi Young, MD, is a 2016 alumni of our South Campus Family Medicine Residency program. Dr. Young is Chief of Staff at Tsehootsooi Medical Center in Fort Defiance, AZ. Dr. Young grew up in Fort Defiance and returned there to practice medicine after completing her residency. She was featured in this ABC15 news story in August. We are proud of her accomplishments and her dedication to medicine, her patients, and fighting Covid-19!