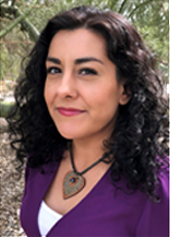 Employment Specialist Senior
Born and raised in Tucson, Arizona, Rita graduated from Project More High School while working at the Pima Public Library. Rita attended both Pima Community College and the University of Arizona, studying the Japanese language. Later, while looking for a new direction in her life, Rita learned about RISE at the University of Arizona (Camp Wellness). It was at this program that Rita began to realize the transformative power of Peer Support in her own life. It was then that she decided her ultimate goal was to work for the University of Arizona as a Recovery Support Specialist. After volunteering and holding an internship at Camp Wellness, Rita moved on to work at NAMI Southern Arizona as their training manager. At NAMI, Rita had the opportunity to teach their peer education program, and eventually become a trainer for their peer mentor and peer support specialist certification program. She enjoyed the opportunity to work individually with peer specialists, training them in Behavioral Health Medical Record Documentation, to help them prepare for employment in the field.
In 2016, Rita reached her goal of working for the University of Arizona as a Recovery Support Specialist. "I found my purpose when I discovered Peer Support, and I hope to continue to learn and grow as part of the amazing team here at the Workforce Development Program."
---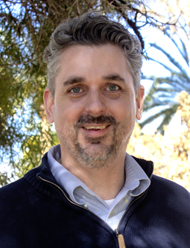 Employment Specialist Senior
Dave Delawder grew up in Tucson, and attended the U of A for geological engineering, which he eventually left behind.  He also studied poetry and writing, became a certified EMT, and then took a detour into the entertainment industry, where he rose through the ranks to become a record store manager, in which role he was assigned to help "problem stores" in California, Arizona and New Mexico become profitable again.  He did this by re-training staff, and eventually launching store managers to move to other cities and do what he was doing, rescuing problem stores of their own.  He then began overseeing 6 stores in New Mexico after he was promoted again to District Manager.
Dave returned to Tucson where he experienced the human services and behavioral health systems as a service recipient, benefitting from "some good work by some good staff," but overall realizing that it was "a system which needed a good bit of self-help."It occurred to him that he might be able transfer some of his "business" skills to human services settings, and he set out to earn his CRSS, which he obtained in 2009.He worked as a Recovery Support Specialist at La Frontera, and then started working at the U of A Health and Wellness Center (Camp Wellness) in September of 2009.
Dave developed a vocational preparation curriculum for Camp Wellness, teaching most of its classes along with his other Health Mentor responsibilities.  These included not only teaching health classes, but also marketing the Camp Wellness program throughout Tucson's behavioral health community.  In addition, he supervised the growing number of volunteers at Camp Wellness developing and overseeing a formal Volunteer Program.
Consistent with his natural interest in "big picture" thinking, Dave joined the Arizona Association of Psychiatric Rehabilitation Practitioners (AAPRP) and was elected to its Board of Directors in 2013.  In late 2013 he passed the exam for the Certified Psychiatric Rehabilitation Practitioner (CPRP) credential which is administered by the Psychiatric Rehabilitation Association (PRA).  He was elected to become the Arizona Chapter Representative of AAPRP to PRA in 2014.
In mid-2014 Dave joined the National Alliance on Mental Illness Southern Arizona (NAMISA) as the Program Director of all education, support and advocacy NAMISA provides to the Tucson community.  This is where Dave aligned all of the NAMI National signature programs into billable Medicaid services to enhance NAMI Southern Arizona's ability to serve more people while diversifying funding streams.  He also compiled and developed an AZ State Certified Peer Support Specialist curriculum enhancing the Peer to Peer Mentor curriculum of NAMI National.
In January of 2016 Dave accepted the position of Instruction Specialist, Sr. at the University of Arizona's College of Family and Community Medicine Integrated Healthcare Recovery Support Specialist Institute-Workforce Development Program.  He also was elected to the NAMI Southern Arizona Board of Directors in early 2016 where he advocates on the public policy committee.
Dave says that one of his greatest pleasures—along with photography and music—is helping others discover their strengths, negotiate successfully the complex human services system, and move forward on their own recovery journey.
---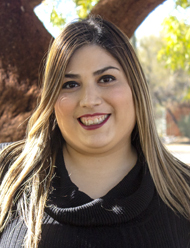 Administrative Associate
Born and raised in Tucson Arizona, her first language was Spanish. By the age of two she spoke and understood two languages fluently, Spanish and English. She was a curious child who asked many questions and wanted to know everything! She is the oldest of three children and she took the role of older sister very seriously. To this day, she is like a second mom to her siblings. Veronica is a caring and compassionate person. She tries to see the good in everyone. Veronica graduated from Cholla High School and attended Pima Community College. Veronica started playing the violin in 5th grade. She was a violinist with Valencia Middle School Mariachi and with Cholla High School Mariachi Los Potrillos. She assisted in the implementation and planning of Cholla's first Mariachi Concert night fundraiser, which consisted of food booths, games, a car show and ended the fundraiser day with a Mariachi Concert put on by several local Mariachi groups. This went on for several years. As a result of the students and parents efforts, enough money was raised for new trajes and new instruments for the group. Veronica was a participant of the fundraising event even after she graduated from Cholla High School. And to this day still volunteers at the annual Mariachi Conference put on by La Frontera every year and stays active in the mariachi community. She knows the importance of giving back to her community. Veronica worked in the banking industry for 8 years. She worked for Bank of America and most recently for Vantage West.  She enjoyed her years working in banking as she got to meet many people and made some good friends along the way. She advanced and promoted quickly within the company becoming the merchant teller which allowed her to focus on local small businesses by helping the community thrive and keeping people spending money local. Her most recent role was supervisor of the teller line. Which she loved being the go to person and problem solver for her fellow coworkers. Through her years of working in the banking industry, she knows the importance of financial planning and encourages youth to learn and work on their financial planning at a young age.  Her husband, Heriberto, is also employed for the University and together they are raising their son (her stepson). Veronica looks forward to continuing her education through the University of Arizona.  She prays their children will also be graduates of the University of Arizona.  Veronica is now living her dream of working for the University of Arizona and being able to help people in the community and learn new things every day.
---
Evaluation Associate
Dr. Jennifer De La Rosa, a Sociologist and evaluator with the Department of Family and Community Medicine, leads a team in building new data management systems and instituting ongoing evaluation procedures at the Workforce Development Program. The team has developed real time reporting systems and is presenting findings on WDP's services and products at conferences and in peer-reviewed publications. Dr. De La Rosa is also evaluating a project that will integrate peer support into two Banner Health primary care clinics.
Throughout her career, Dr. De La Rosa has enjoyed partnering with organizations to grow their capacity to use data as a strategic resource. To accomplish this, it is necessary to align with the values and mission of an organization, "translating" raw data into insights that can be used in decision-making and policy. Though she has worked in diverse settings, the theme of self-determination has been present throughout. Her biggest professional reward is providing data-driven support to individuals, organizations, and communities as they envision and actualize the futures they most want to see. In addition to technical and consulting work, Dr. De La Rosa continues to be engaged in undergraduate education teaching courses on Health Disparities and Population Health at the University of Arizona's School of Sociology. In her spare time, she enjoys photography, travel, and playing outdoors with her husband and two young sons.
---

Financial Analyst
Certified Professional Coder American Academy of Professional Coders Joined the Dept of Family Community Medicine December 2009 Part of the original start-up team for Camp Wellness 2009 Workforce Development since 2014 Experience in the Health Care Arena Claims Administration 40+ years
---

Billing & Claims Specialist
Although Hilary has spent more than half her life in Arizona, she is not a native. She was born in Virginia and raised in Connecticut. She graduated from the MacDuffie School in Springfield, Massachusetts, and then attended St Joseph college to study English, with a concentration in writing and publishing. It was in Connecticut that she met her husband Scott, whose job brought them to Arizona where they started their family in Sierra Vista. Hilary worked in banking, mortgage and other financial services for several years, until leaving the workforce to raise her three daughters. She and her family moved nine times over the course of 14 years due to her husband's career before returning permanently to Tucson. It was then that Hilary began working for Abundant Health Family Practice as their Claims and Billing Specialist, until the practice was acquired by a regional medical group. She then accepted her current position, where she is extremely excited to be a part of a team with such a unique and meaningful purpose. Hilary is also a Pilates Instructor, and in her spare time enjoys the outdoors, reading, cooking, golfing with Scott and spending time with her 10, 14, and 17 year old daughters.
---