Program Director, Appointed Professional
Born and raised on Chicago's south side, Beverly enjoyed the big city life. She graduated from Goodman School of Drama in 1971 with a Bachelor's of Fine Arts Degree from The Art Institute of Chicago. She toured with theatrical groups in the Midwest and on the east coast.
Beverly changed her career/vision and in 1980 she graduated from St Louis University with a Bachelor in Nursing. The following year she moved to San Francisco and worked at the University of California, San Francisco Medical Center for 10 years. She worked very closely with interns, residents and physicians who where unraveling the complexity of AIDS/HIV. In her extra time she worked with the California Nurses Association (CNA) on government relations, campaigns and assisted in organizing the University of California campuses for CNA to be the nurses' bargaining agent. In 1990 she received her Masters of Science in Nursing from UCSF in Quality Assurance. Beverly has presented at nursing conferences and was on the national American Nurses Association Committee to revise Nursing Standards of Practice.
After working as a charge nurse at San Francisco General's in patient psychiatric unit she moved into a QA Nurse Coordinator position for San Francisco City and County Mental Health Department. She was one of several people chosen to produce and participate in bringing the psychosocial rehabilitation option to California in the early 1990's. Beverly was an active member of California's Association of Quality Assurance Coordinators.
In 1994, Beverly moved to Phoenix, Arizona where she worked as a Clinical Specialist for the Maricopa County regional behavioral health authority (RBHA), ComCare, overseeing clinical decisions for several case management clinics. In 1997 she moved to Tucson where she worked at La Frontera Center as the Coordinator of the General Mental Health Team. In 1999 she was promoted to the Director of Services for Persons with a Serious Mental Illness, a position she held until 2004. Beverly has worked for the UA, DFCM's RISE unit since 2005 and was instrumental in developing the curricula for the Recovery Support Specialist Institute (RSSI) through a contract to UA RISE from the Community Partnership of Southern Arizona (CPSA) the RBHA for Pima, Graham, Greenlee Santa Cruz and Cochise counties. Beverly facilitates at RSSIs, practicum meetings, and monthly supervisor trainings for CPSA's peer support program. She also trained individuals with a lived experience of addictions in an ADHS/DBHS funded Substance Abuse Peer Support (SART) Basic and Advanced and supervisor trainings. When RISE opened the Health & Wellness Center's Camp Wellness, she became the Camp Nurse and worked there for three years. In late 2012 she was moved into the Program Director's position for the RSSI Workforce Development Program. This new program will expand as other contract sources and participants are sought.
Beverly's background in theater, nursing, quality assurance, community behavioral health and peer support put her in a unique position to be the Program Director of DFCM/RSSI Workforce Development Program. Her ability to embrace Christ's love gives her strength and motivation.
---
Employment Specialist Senior
Stephanie grew up all over the Pacific Northwest before moving to Arizona in 1986. She attended Tucson High School, and graduated in 1990.  Stephanie attended Pima Community College and became an EMT, Phlebotomist and Medical assistant.  Stephanie married and lived in Washington State, before settling in Mesa AZ until 2014. Stephanie took community college courses and began teaching so that she could balance her family life while working and discovered how much she loved teaching. She has 5 beautiful children ages 11-20. Stephanie taught school for several years before reengaging her hobby of cooking and becoming a Chef. She incorporated her passion for teaching with her passion for food by working in Food and Beverage sales and as a Corporate Trainer for a world known franchise, before owning her own catering and events company.
Through a series of unfortunate events, her world quickly crashed to a screaming halt and her seemingly perfect life spiraled out of control and Stephanie became a recipient of Behavioral Health services in 2011 after severe circumstances left her with an inability to function. In and out of treatment centers, counseling, and specialized programs, there was still a piece missing. Finally, she was introduced to Peer Support and this changed her life. Peer support gave her the courage to face her biggest obstacles, overcome her greatest fears, reestablish her relationship with Christ and not only recover, but flourish.  Stephanie discovered that her life experiences and strengths, when shared with others helped people with recovery in all areas of their lives.  With a new passion and purpose, her dream became to help others achieve long-term and sustained recovery through an evidence and strength based approach.  Stephanie graduated from the IHRSS institute in 2016, and has recently become a facilitator for Mary Ellen Copelands WRAP.
"I believe that recovery is 100% possible, and I believe in the compassion, empathy and strength behind our lived experiences and how Peer Support can help change lives.  It is an honor to be able to incorporate my love of teaching and passion for recovery and Peer Support into my dream job and can't wait to see what life will bring next!"
---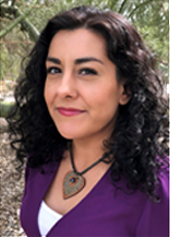 Employment Specialist
Born and raised in Tucson, Arizona. Rita excelled in school and dreamed of being a writer or lawyer. Despite some stormy teenage years, Rita graduated from Project More High School while working at the Pima Public Library.
Rita attended both Pima Community College and the University of Arizona. Having enjoyed her experience working at the library, Rita considered studying Library Science. She also briefly considered Costume Design and Creative Writing before choosing to major in East Asian Studies, with a focus on the Japanese language. Rita planned to teach English as a second language in Japan, as she had learned when volunteering as an English tutor that she loved working with others to help them reach their goals. When an earthquake and tsunami hit the Tōhoku region of Japan in 2011, Rita decided to put her plans to move on hold indefinitely.
While looking for a new direction in her life, Rita learned about the RISE Program at the University of Arizona. She attended the 9-week Camp Wellness program, and loved it so much that she continued to attend classes and volunteer her time there. It was at this program that Rita began to realize the transformative power of Peer Support on her own life. It was then that she decided her goal was to become a Certified Recovery Support Specialist, and her ultimate dream was to work for the University of Arizona as a CRSS. Rita completed her first goal in the Summer of 2014, graduating from Institute 40.
After volunteering and holding an internship at Camp Wellness, Rita moved on to work at NAMI Southern Arizona as their Training Manager. At NAMI, Rita had the opportunity to teach their Peer Education program, and eventually become a trainer for their Peer Mentor and Peer Support Specialist certification program. She enjoyed the opportunity to work individually with Peer Specialists, training them in Behavioral Health Medical Record Documentation, to help them prepare for employment in the field.
This year, Rita reached her goal of working for the University of Arizona as a Recovery Support Specialist. "I found my purpose when I discovered Peer Support, and I hope to continue to learn and grow as part of the amazing team here at the Workforce Development Program."
---
Employment Specialist
Dave Delawder grew up in Tucson, and attended the U of A for geological engineering, which he eventually left behind.  He also studied poetry and writing, became a certified EMT, and then took a detour into the entertainment industry, where he rose through the ranks to become a record store manager, in which role he was assigned to help "problem stores" in California, Arizona and New Mexico become profitable again.  He did this by re-training staff, and eventually launching store managers to move to other cities and do what he was doing, rescuing problem stores of their own.  He then began overseeing 6 stores in New Mexico after he was promoted again to District Manager.
Dave returned to Tucson where he experienced the human services and behavioral health systems as a service recipient, benefitting from "some good work by some good staff," but overall realizing that it was "a system which needed a good bit of self-help."It occurred to him that he might be able transfer some of his "business" skills to human services settings, and he set out to earn his CRSS, which he obtained in 2009.He worked as a Recovery Support Specialist at La Frontera, and then started working at the U of A Health and Wellness Center (Camp Wellness) in September of 2009.
Dave developed a vocational preparation curriculum for Camp Wellness, teaching most of its classes along with his other Health Mentor responsibilities.  These included not only teaching health classes, but also marketing the Camp Wellness program throughout Tucson's behavioral health community.  In addition, he supervised the growing number of volunteers at Camp Wellness developing and overseeing a formal Volunteer Program.
Consistent with his natural interest in "big picture" thinking, Dave joined the Arizona Association of Psychiatric Rehabilitation Practitioners (AAPRP) and was elected to its Board of Directors in 2013.  In late 2013 he passed the exam for the Certified Psychiatric Rehabilitation Practitioner (CPRP) credential which is administered by the Psychiatric Rehabilitation Association (PRA).  He was elected to become the Arizona Chapter Representative of AAPRP to PRA in 2014.
In mid-2014 Dave joined the National Alliance on Mental Illness Southern Arizona (NAMISA) as the Program Director of all education, support and advocacy NAMISA provides to the Tucson community.  This is where Dave aligned all of the NAMI National signature programs into billable Medicaid services to enhance NAMI Southern Arizona's ability to serve more people while diversifying funding streams.  He also compiled and developed an AZ State Certified Peer Support Specialist curriculum enhancing the Peer to Peer Mentor curriculum of NAMI National.
In January of 2016 Dave accepted the position of Instruction Specialist, Sr. at the University of Arizona's College of Family and Community Medicine Integrated Healthcare Recovery Support Specialist Institute-Workforce Development Program.  He also was elected to the NAMI Southern Arizona Board of Directors in early 2016 where he advocates on the public policy committee.
Dave says that one of his greatest pleasures—along with photography and music—is helping others discover their strengths, negotiate successfully the complex human services system, and move forward on their own recovery journey.
---
Administrative Associate
Born and raised in Tucson Arizona, was part of the first graduating class at San Miguel High School in 2008. When she was in High School, she worked for the University of Arizona as a High School Intern in Facilities Management Human Resource department for 4 years. After graduating, she went into the work force as a teller at JPMorgan Chase for 3 years. To increase employment options after a few years, she then moved to Vantage West Credit Union as a teller. After 8 months, she was promoted to be a Financial Representative (FR). During her first months as an FR, she landed one of the largest deposits for the Credit Union. She was acknowledged and taken to lunch by Vice President Jamie Hernandez and CEO Robert D. Ramirez of Vantage West Credit Union also present 3 Managers and a District Manager. Due to her diligence and charming personality in working with the members, Vanessa received a raise each year acknowledging her good work. She has now come aboard the University of Arizona Workforce Development Program (WDP) as an Administrative Associate. Her husband Miguel, is also employed for the University and together, they have a beautiful daughter. Miguel is a proud Alumni of the University of Arizona. Vanessa looks forward to being an Alumni also, and they pray their daughter and any other children they will have, will be graduates. She is finally living her dream and inspiration of working once again for the University. The staff at WDP is delighted to have Vanessa on board.
---
Evaluation Associate
Dr. Jennifer De La Rosa, a Sociologist and evaluator with the Department of Family and Community Medicine, leads a team in building new data management systems and instituting ongoing evaluation procedures at the Workforce Development Program. The team has developed real time reporting systems and is presenting findings on WDP's services and products at conferences and in peer-reviewed publications. Dr. De La Rosa is also evaluating a project that will integrate peer support into two Banner Health primary care clinics.
Throughout her career, Dr. De La Rosa has enjoyed partnering with organizations to grow their capacity to use data as a strategic resource. To accomplish this, it is necessary to align with the values and mission of an organization, "translating" raw data into insights that can be used in decision-making and policy. Though she has worked in diverse settings, the theme of self-determination has been present throughout. Her biggest professional reward is providing data-driven support to individuals, organizations, and communities as they envision and actualize the futures they most want to see. In addition to technical and consulting work, Dr. De La Rosa continues to be engaged in undergraduate education teaching courses on Health Disparities and Population Health at the University of Arizona's School of Sociology. In her spare time, she enjoys photography, travel, and playing outdoors with her husband and two young sons.
---
Evaluation Associate
Dr. James Cunningham is the director of the Program Evaluation & Policy Research Group. His research interests include social epidemiologic methods, program and policy evaluation, health disparity determinants, and health services workforce quality. He introduced and helped develop the field of study that examines how essential/precursor chemical controls impact illicit drug production, use and morbidity. He is working to foster more population-based health research among indigenous peoples. And he is developing new measures/instruments to better assess the skill levels and identify the training needs of health professionals.
---
Financial Analyst

Certified Professional Coder
American Academy of Professional Coders
Joined the Dept of Family Community Medicine December 2009
Part of the original start-up team for Camp Wellness 2009
Workforce Development since 2014
Experience in the Health Care Arena Claims Administration 40+ years