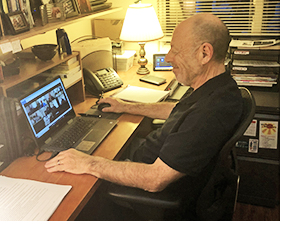 Due to the coronavirus pandemic, Camp Wellness (which teaches health and wellness skills in a recovery-oriented environment) has become creative in how it meets the needs of its students—individuals diagnosed with mental illness and substance use disorders.
One approach is providing classes taught via UA's Zoom for Health, which ensures privacy and has built-in safeguards against Zoom-bombing.
Coffee Talk is one such solution.
It's a weekly discussion group facilitated by Andrew Bernstein, PhD, clinical director for Camp Wellness. Coffee Talk enables students to choose topics and then practice communication skills, such as listening, articulating their own views and adapting to different kinds of communication environments. The latter can include formal settings such as classrooms and meetings which are taught or facilitated by a leader, but also informal settings, such as cafeterias and living rooms, where reading social cues and being able to share "airtime" become critical skills to master. 
Students in a recent Zoom class chose to discuss their reaction to the coronavirus, its impact on their lives, and what thoughts, concerns and hopes they had about the future. 
As often is the case, the level of discourse was much higher than what many people stereotypically expect from people with mental health challenges and substance use disorders. Dr. Bernstein asked the students if they were interested in having subsequent conversations with him, expanding on an exercise they did in which the three sentence stems, "I fear ____ , I wish ____ , and I wonder ____ ," were completed by students. He explained that he wanted to write an article for our departmental newsletter addressing how Camp Wellness was helping its students deal with the coronavirus, and that without using any of their names, he would report some of their feelings and observations as shared during these conversations. Five students expressed interest, and signed up for individual chats. 
One student expressed concern about two sisters who lived in a country which had the virus earlier than the U.S., and said she felt great relief when learning that neither of them was infected. She said that she wasn't afraid to die if it were her time, but she wasn't going to make it easy for the virus to "get her," vowing to follow all the guidelines she was hearing about from the CDC and Camp Wellness staff. Another student was concerned about her own elevated risk factors, and said she was grateful that Camp Wellness was still open and providing opportunities for people to interact with each other.  She said she had made so many gains in her own recovery since starting the program, and she didn't want to lose ground and revert to the kind of isolating that she used to engage in when depressed.  She also denied any fear of dying, but felt strongly that she didn't want to leave a "mess" behind, and was planning to contact an attorney to help her go over her will and an advanced directive she had completed years earlier, before she became a dog-owner. 
A third student speculated on what impact the virus would have on society, wondering if people might be compelled to re-examine their priorities and values, getting in touch with what's more—and less—important to them in life. She expressed the hope that people would become more appreciative of relationships and of helping each other through difficult times, having had some experience doing that now, even if not in person. 
A fourth student acknowledged feeling lonely as a result of how much time she was having to spend alone at home, missing friends whom she no longer saw in programs they attended, and finding herself simply crying at times. On the other hand, she said, she was full of gratitude for having an apartment of her own, enough food to eat, and a phone that she could use to talk with both friends and some family members who lived far away.  
This is typical of Camp Wellness students, who are encouraged to be aware of their feelings but also to learn ways to guide their thoughts, which they know can impact their emotions. Two students said they were picking up old hobbies they used to have, trying to be productive and feel positive about themselves, and another student wondered optimistically whether one long-range impact of the pandemic might be that people would be more understanding of those with mental health challenges, having discovered that they, too, could have depression, anxiety, and other symptoms, yet somehow overcome them and return to a life which has meaning and purpose.