Camp Wellness exists to enhance your knowledge and skills about health and wellness.
Learn how to choose and prepare healthy meals.

Explore the functions of the human body and how to keep it healthy.

Join exciting, fun games with fellow students and Health Mentors.

Enjoy safe, supported exercise.

Experience a positive, challenging and supportive environment of learning.

Come have fun while improving your health!
Camp Wellness Health Mentors are Certified Recovery Support Specialists (CRSS) who possess lived experience navigating the behavioral health system.  These award-winning peer providers are trained and certified to provide recovery tools and services including peer support, skills training and other services.


How do I apply to attend Camp?
You may be eligible to attend if you are an adult enrolled with a GMH/SA TXIX or SMI program in the following counties: Cochise, Graham, Greenlee, La Paz, Pima, Pinal, Santa Cruz, Yuma.
Click here to download our application
Speak with your Recovery Coach for a Specialty Provider referral.
Sign a Release of Information form for Camp Wellness.
Your Recovery Coach will send your referral via secure email to hwcenter@email.arizona.edu or fax to520-396-2306.
Once your application is approved, you will be notified when to start Camp!
Tucson Camp 40 for Pima County begins 11/7/16 and meets Monday-Friday (excluding holidays).
Prep classes are also available for anyone with a completed referral to get a jump-start while waiting for the next Tucson camp to begin!
| City | Day (except holidays) | Meeting Time |
| --- | --- | --- |
| Apache Junction | Tuesdays | 11AM-3PM |
| Nogales | Fridays | Noon-4PM |
| Sierra Vista | Wednesdays beginning 10/19/16 | 9AM-1PM |
| Yuma | Mondays | Noon-4PM |

Click on the city for location information as it is subject to change.
Questions about Camp Wellness On Wheels (WOW)? Call 520-528-5482.
 
Tours of our Tucson location are available every Monday at 1PM or contact us at (520) 396-2310 to arrange a personal tour!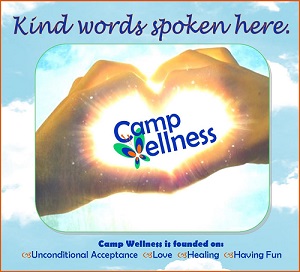 Important Cenpatico numbers
Crisis Line: 1-866-495-6735
Customer Care: 1-866-495-6738
TDD: 1-877-613-2076