Tucson, Arizona is an easy 1.5 hour drive south of Phoenix and about an hour north of the US-Mexico border.  Although it feels of a small town, Tucson boasts many highlights of a large city.  With a metropolitan area population estimated to have reached greater than one million in July 2008, Tucson sits in the middle of four major mountain ranges: the Tucson Mountains, the Santa Rita Mountains, the Santa Catalina Mountains, and the Rincon Mountains.
With mild winters and bearable summers, hiking, cycling, and various outdoor activities are possible year-round.  Yes, folks, we can reach greater than 110F during the summer, but it is a DRY heat (which truly makes a world of difference!)  During the winter, we can enjoy 50F weather and look at our snow-capped mountains.  We are approximately ten degrees cooler than Phoenix, AZ, and we are only 45 minutes away from Mt. Lemmon, our local ski get-away and summer heat escape.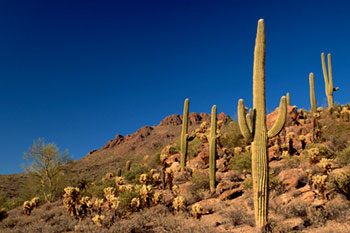 Other outside activities/events to enjoy: El Tour de Tucson is a world renowned yearly cycling event, not to mention Tucson is a bike-friendly city with lots of bike routes for the rest of us mortals or for those training for the 109 mile event; great hiking at Sabino Canyon with a beautiful view of Seven Falls; a safe close-up view of live desert wildlife at the Arizona-Sonora Desert Museum; historic Spanish-colonial buildings such as the San Xavier del Bac Mission and Saint Augustine's Cathedral; lots of golf courses, and the yearly World Golf Championships-- Accenture Match Play Championship held at The Ritz-Carlton Golf Club, Dove Mountain; the bi-annual Fourth Avenue Street Fair brings together artists from around the country to share their unique crafts with the public; baseball spring training with the Colorado Rockies and Arizona Diamondbacks; and check out beautiful stones from dealers from around the world as they come together annually for the Tucson Gem and Mineral Show.

And the food? We don't just have awesome Mexican food here. With people from all over the world having made Tucson their home, all types of authentic ethnic foods are available in the Old Pueblo. Ethiopian, Thai, Cuban, Middle Eastern, Greek, Indian, Guatemalan, etc... Dim Sum? Oh, heck yeah! From casual to ritzy, we got it!