Personal quotes from current residents about why they love Tucson:
"I love the cacti they are super cool interesting and you don't find them any where else" - Dr. Jenny Saint Aubyn, PGY1
"I love the mountains and the hikes"- Dr. Chantelle Chen, PGY3/Chief Resisdent
"Blue skies"- Dr. Jenny Saint Aubyn, PGY1
"Better skiing than Oklahoma!"- Dr. Joshua Clutter, PGY2
" I love the coyotes that cross the road"- Dr. Jenny Saint Aubyn, PGY1
" It's bike friendly!"- Dr. Myles Stone, PGY2
"I love the golfing in December"- Dr. Marcos Teran, PGY1
"I love the monsoon"-Dr. Chantelle Chen, PGY3/Chief
" 30 min rise to mount Lemmon"- Dr. Naomi Young, PGY3
"360 degree front row seats from anywhere to see the sunsets"- Dr. Jason Patel, PGY1
" I love the humming birds"-Dr. Cynthia Carrillo, PGY3
"There's always a friendly helpful face"- Dr. Chantelle Chen, PGY3/Chief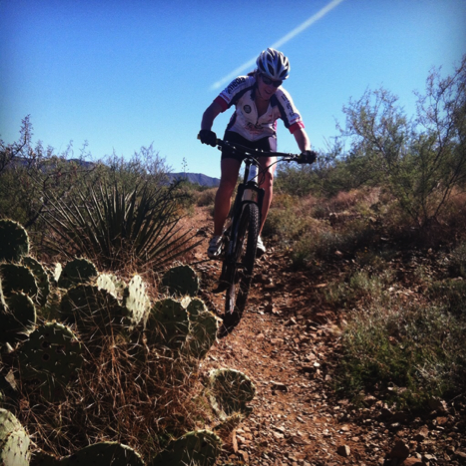 "After growing up 30 minutes from heaven (AKA Jackson Hole and Grand Teton National Park), I must admit my standards and expectations for the outdoors is a little high maintenance.  I want beauty, wildlife, challenging terrain, low crowds and quick access.  Tucson and Arizona fit this description.  My husband and I went to medical school in Seattle and upon moving here were relieved to be able to avoid 2+ hour commutes and crowded trails.  Within a 15 minute drive from my house, I can be at an isolated trail head starting off on a 20+ mile run, a mountain bike ride or a day of rock climbing.  The terrain and wildlife are much different than anything I have ever known in Wyoming or Washington and I love it.  Since living here, I have adopted a new love for mountain biking to help quench my longing for skiing and powder.  Turns out Arizona is a great place to mountain bike at all levels with endless trails and a great biking community.  There is also an amazing road biking community in Tucson with many professionals coming here to train on the beloved Mt. Lemmon road and the city's annual El Tour de Tucson (a 104 mile race in and around the city with more than 9,000 participants!)  For weekends off, there are endless road-trips to be made to Flagstaff, Sedona, Pinetop, Grand Canyon, Zion, Moab, etc.  For those of you who love the outdoors and enjoy its variety and extremes this is a beautiful place to explore."–Dr. Katie Houmes, PGY2
"Tucson has so much to offer for the busy family medicine resident. If you look for it, you will find it! The town of Tucson lays surrounded by four mountain systems all of which hold a big slice of adventure. The Rincon Mountains to the East holds Saguaro National Park (East) and miles of rich ground for backpacking and trail running. The Tucson Mountains to the West has Tucson Mountain Park, Saguaro National Park (West), The Arizona-Sonora Desert Museum, and is filled with mountain biking trails. The Santa Rita Mountains to the South has Mt. Wrightson which is a perfect stop for a hike on your way to the Nogales rotation. Lastly, the most accessible is the Catalina Mountains to the North, which is a beautiful expanse full of backcountry rock climbing, trails to waterfalls and pools, and of course the beautiful drive up Mt. Lemmon. With unmatched microbiomes changing as you gain elevation, Mt. Lemmon is the place to escape the heat. If you're lucky you may even get to ski the top when conditions are right. Suprisingly, skiing is accessible! Drive north through the gorgeous Salt River Canyon for a weekend trip to Sunrise Ski Resort, or just set up your rural rotation in Show Low (OB) or Whiteriver (Family Med). If hiking is your thing you'll never be filled. If climbing is your thing MountainProject logs 2692 climbs in southern Arizona alone! Including quick sport routes at Mt Lemmon and gnarly multipitches at Cochise Stronghold (http://www.mountainproject.com/v/southern-arizona/107447521). Mountain biking? 140+ trails in the Tucson area (https://www.mtbproject.com/directory/8007021/southern-arizona-and-tucson). Trail running? Train the hundreds of miles of surrounding trails, try to keep up with the Hopi during your Polacca rural rotation, then attempt the rim-to-rim run across the Grand Canyon.
Pick your poison... You'll find it in Tucson."–Dr. Joshua Clutter, PGY2
"I love the Old Pueblo for many reasons and usually I just ramble on and on about it until peoples eyes gloss over, so you will just have to stop reading if its too much or skip to the highlights that most interest you.
 - Mountains: we are surrounded by beautiful mountains and my favorite time of day is just before sunset when they turn pink.  There is amazing hiking and bike trails. In the hot days of summer Mt. Lemmon is just an hour drive for cooler weather and in the winter there is snow to play in!
 - Weather: I complain about the heat in the summer, but you really can do outdoor activities year round. This is especially nice if you are like me and find treadmills painfully boring.
 - Low cost of living: I have a house. Lots of my friends have houses.  Residency salaries don't vary that much and its nice to actually be able to spend money on some fun things - like vacation. Half of my class went to Hawaii intern year and we didn't even plan that.
 - Food: UNESCO just named Tucson a gastronomy capital. We have great food trucks, local restaurants using local food, Mexican flavors, you name it.  A few favorites to check out when you're in town: B Line
 Cafe, Beyond Bread, Cafe Poca Cosa, Cup Cafe, I could go on but I'll just jump to the end of the alphabet - Zemams.
 - Drink: We also have a fun craft beer scene (just ask Myles Stone about this place called Borderlands).  And fun beer bars: Tap and Bottle, Hop Shop. It may sound weird, but we are also close to some pretty good wine tasting and vineyards just about an hour outside of town.  But don't worry - there is great tasting in town at places like
 CataVinos.
 - Culture: Tucson is a great mix of cultures, including Mexican and Native American.  We have fun festivals throughout the year, including craft fairs, the All Souls Procession (to celebrate Dia de los Muertos) and Tucson Meet Yourself (also known as Tuscon Eat Yourself).  This translates to a great patient population, too!
 - Small Town Feel: its a big town, everything is here except for Nordstrom, but it still feels like a small college town. Its great to see people rally behind the U of A. And you can always play the few degrees of separation with locals."–Dr. Shana Semmens, PGY3
Faculty Testimonials
"Things I love most about Tucson:
In any direction you have a spectacular view of mountains.
The sunrises and sunsets are unbeatable.
Monsoon season and the smell of rain from the desert creosote is one of the best times of year and nicest nature smells.
The desert wildlife----coyotes, bunnies, jackrabbits, road runners, hummingbirds, javelina, and even the snakes.
The climate, sunshine almost all year-round
The people in Tucson are so friendly, and will always stop to say hello and help if needed. When people in Tucson ask how you are doing, they genuinely want to know the answer.
The Desert Museum
Kitt Peak
Conducive to exercising, with the loop trail for running and biking, and many beautiful trails for hiking.
Sabino Canyon
Catalina State Park
Madera Canyon
Wasson Peak"
– Dr. Kyle Meehan, Assistant Professor, Clinical