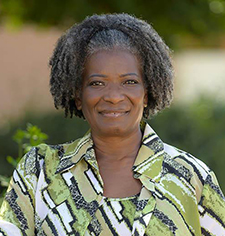 On Monday, May 9, friends, family and colleagues gathered at the Social Hall in the College of Medicine to celebrate Dr. Vicky Murrain's 30+ years of exemplary service at FCM and COM – Tucson. Dr. Murrain's official retirement date is July 15.
As an associate professor and vice dean of COM – Tucson's Office of Diversity, Equity and Inclusion, Dr. Murrain has served as a clinician, educator, leader, administrator and passionate advocate for underserved individuals. She has cared for thousands of patients and has trained countless medical students, residents, fellows, staff and faculty members.
At Dr. Murrain's retirement celebration, FCM Chair Kristen Rundell, MD, presented her with a commemorative brick from FCM's previous building that was located on the UAHS campus. 
"Dr. Murrain has greatly impacted the Department of Family and Community Medicine as a physician, educator, leader, colleague, and friend," said Dr. Rundell. "Her impact in family medicine extends beyond Tucson and Southern Arizona. I'm sure that wherever she travels during retirement there will be a former student, resident or faculty member that will host her. We wish her the best as she transitions to the next phase of her life and we know that the only way we can truly thank her and honor her service is by continuing her work."
Additional FCM faculty members reflected on Dr. Murrain's profound and positive impact: 
"Imagining FCM without Vicky Murrain is difficult," said Karyn Kolman, MD, associate professor and FCM's vice chair for education. "Over the past 30 years, she has cared for thousands of patients, taught hundreds of students and residents, and created much needed programs that serve our community. I am so grateful to have had the honor of working with her for the last part of her 30+ years at FCM. We have collaborated, commiserated, and celebrated together. She will always be a mentor, a role model, and friend to me, and I will miss her greatly. I wish her joy and happiness in her future retirement and many, many wonderful years of grandparenting."
"When I first met Vicky Murrain in 2014, I was in awe of who she is as a woman, leader, educator, and physician," said Elizabeth Kyle Meehan, MD, assistant professor and FCM's resident associate program director. "When she speaks in a meeting, it is with conviction, great intention, and always from her heart. She is principled and measured. She leads with love and kindness while also maintaining a steely commitment to what is right in all her encounters. She always brings the conversation back to a mission-driven focus of how we can better serve our most vulnerable patients, and how we can better educate our residents to serve our most vulnerable communities."
Dr. Meehan continued: "Her guiding words and actions have become a compass for so many in our department and for the University of Arizona College of Medicine community at large. Recently, at our Mobile Health Prenatal Clinic, one of our patients was recalling her prior pregnancies and when she described the birth of her first child, now nine years ago, her eyes lit up and she said she had the best doctor in the world, Doctora Murrain. When so many of us think about Vicky Murrain, we get that same twinkle in our eyes and our hearts expand because she has touched us deeply with her mentoring, doctoring, teaching, and guidance. She will be deeply missed, but the roots she has planted in our department and our community ground us for our continued growth and her legacy will continue to guide us to work for a more equitable, love-filled world for all."
Background
Dr. Murrain is a graduate of the College of Osteopathic Medicine of the Pacific (now Western University) in Pomona, California. She came to COM – Tucson and completed her residency in family medicine. After residency, she accepted a position at the South Plains Community Health Center in the panhandle of Texas. After three years of providing care to migrant and seasonal workers, she returned to the UA and joined FCM in 1992.
Dr. Murrain's special areas of interest are diversity and inclusion, community medicine, and maternal and child health. Dr. Murrain is fluent in Spanish and is a passionate advocate for providing high-quality health care to the underserved. She helped establish a Homeless Teen Program. Dr. Murrain developed the rural health obstetrical program, in conjunction with FCM's mobile health clinic. Her special passion is the mobile health clinic. She enjoys maternal-child health care and the opportunity it provides to care for entire families. Through her many years of providing maternity care, she has delivered the daughters, granddaughters, and great granddaughters of her patients—and she now has four generations of families receiving her care.
As an educator, Dr. Murrain has inspired and trained numerous future family medicine physicians. She has provided guidance for countless medical students to help them achieve their goal of being a physician. She led the development of the Graduate Medical Education Spanish Language Health Care Disparities Distinction Track, as well as LEADRS (Leaders Emerging in the Academic Development of Residents and Students), a COM-T mentoring program to engage medical students, residents and faculty from groups underrepresented in medicine. Dr. Murrain also led the Pathways to Success Program. This Banner/COM-T sponsored event allows faculty, residents/fellows and medical students to engage with, inspire, and encourage high school students from diverse backgrounds underrepresented in health care, to pursue careers in the health care professions.
Dr. Murrain has created a framework for the College of Medicine – Tucson and the clinical departments to address diversity, equity, inclusion and antiracism through training, workshops, and resources. We are grateful and will continue her work. Thank you, Dr. Murrain, from the Family and Community Medicine department, your patients, the College of Medicine – Tucson and the countless physicians and others who have been impacted by your service.