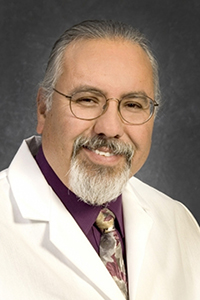 Congratulations to Carlos Gonzales, MD, associate professor, for receiving the Individual Excellence in Diversity, Equity, and Inclusion Award from the UArizona College of Medicine  – Tucson.  Dr. Gonzales has dedicated a lifetime of effort to advance DEI. His work extends beyond COM – Tucson. This award is a fitting way to recognize his decades of service and advocacy for DEI.
Dr. Gonzales' philosophy of advocacy to address non-diversity, inequality and non-inclusion of certain people within our society stems from his experiences as a child and young person. He grew up in the underprivileged side of Tucson, son of a Mexican mother and a Yaqui father. Dr. Gonzales experienced discrimination and racism and resolved to address and correct these problems. His motivation for pursuing a medical degree was to be a role model in changing how physicians treat and care for minority and Spanish speaking patients.
Dr. Gonzales' work in DEI began in the 1970s. While a medical student at the UArizona College of Medicine–Tucson, he helped secure a grant creating the Office of Minority Recruitment and Retention (now the COM Office of Diversity Equity and Inclusion). In the 1970s, he actively recruited minority students to enhance diversity of COM students. With other medical students, Dr. Gonzales obtained funding to start the Commitment to Underserved Peoples (CUP) program. Now greatly expanded from its original single student-run clinic, CUP remains a vital medical student volunteer service program for the Tucson community.
Throughout his career, Dr. Gonzales has cared for the underserved in southern Arizona. As a practicing physician, he unofficially advised to COM Hispanic and American Indian medical students. He joined the COM faculty in 2006, bringing experience in cross cultural medicine, border health, community health centers, American Indian reservations, and rural health. He has shared his knowledge from these experiences, teaching about the health problems faced by these underserved peoples.
Dr. Gonzales is extremely active within the family medicine discipline. He is past president of the Arizona Academy of Family Physicians (AzAFP), a delegate to the national American Academy of Family Practice (AAFP) Congress of Delegates, and the AAFP Board of Directors. His involvement is characterized by advocacy to address health equity problems affecting underserved populations within the United States. Because of this advocacy, he was appointed to the USA-Mexico Border Health Commission and the AAFP Task Force on Universal Health Coverage. This year, he was appointed to the American Board of Family Medicine (ABFM). The driving force behind his ABFM service is continued advocacy to address issues affecting the disenfranchised and underserved populations of America.
Dr. Gonzales brought the ceremonialism of the American Indian to COM – Tucson, sharing and teaching this important cultural gift. He regularly performs blessing ceremonies for the UArizona community and teaches about the healing philosophy of Traditional American Indian Medicine, educating our physicians, residents and students about the value of traditional healers.