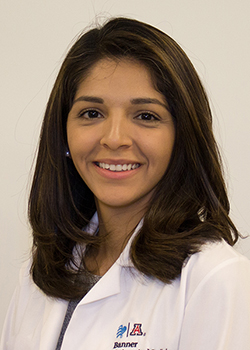 Ana Gonzales, MD, a third-year family medicine resident at  our Family Medicine Residency at South Campus was awarded the 2020 Norma J. Peal, PhD Award.
This award is given in honor of Norma Peal (director of government relations) who, in 2006, was instrumental in creating the Graduate Medical Education (GME) Program at South Campus.
This award recognizes a third-year resident within the South Campus Graduate Medical Education (GME) residency programs who best exemplifies the missions that were close to Ms. Peal's heart, including:
A commitment to underserved populations;
A commitment to rural communities;
An interest in community activism;
A commitment to scholarly activity
Dr. Gonzales exemplifies these values whole-heartedly. Her path to medicine was unique and extraordinary.
Originally from Peru, her family moved to the United States at an early age. She was an immigrant and a DREAMER in this country, tenaciously pursuing her academic dreams and completing her undergraduate education in molecular and cellular biology.
She is a first- generation college and medical school graduate. She received her MD/MPH at the UArizona College of Medicine –Tucson and the Mel and Enid Zuckerman College of Public Health. While in medical school, she participated in the Rural Health Professions Program, engaged in her community by working at student-run clinics, coordinated health fairs and community outreach for southern Tucson, and worked alongside her peers and faculty to promote diversity.
As a family medicine resident, Ana has gracefully balanced the challenges of residency and motherhood. Over the last three years, she has shown her commitment to working with marginalized patient populations and has expressed a strong interest in maternal and child health. Her third-year scholarly project and ongoing quality improvement work is aimed at identifying barriers to postpartum care in the family medicine prenatal mobile health unit, a program that provides care to underserved or uninsured pregnant women.
In addition to addressing inequalities in health care for patients, an area of particular interest for Dr. Gonzales is pipe-line work for promoting success of under-represented minorities within medicine. Her personal journey is an inspiring one in which she overcame many barriers to become a physician. True to her nature, Dr. Gonzales wants to use her experiences to mentor others to ensure the success of many more talented and capable people.  She is active as a mentor with Pre-medical Admission Pathway (PMAP), which is an intensive medical school preparation program designed for students coming from disadvantaged backgrounds to increase their support while going through medical school and optimize their chances of reaching their goals within medicine.
Last year, she stood before eager medical students and told her story as a panel member on the "First Generation College Student Panel," which was an event hosted for the University of Arizona College of Medicine–Tucson by the Office of Diversity and Inclusion.
She also serves as an advisor for the Family Medicine Interest Group and mentors medical students interested in family medicine as a specialty. After graduation, Dr. Gonzales will join the UArizona Department of Family and Community Medicine as faculty, pursuing her dream of practicing and teaching academic family medicine.
We are proud of Dr. Ana Gonzales as she approaches graduation and thrilled to have her joining our department as faculty.