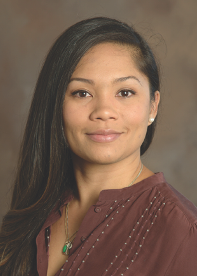 Jacy Farkas, MA, ABD, training director for the Sonoran Center for Excellence in Disabilities, was awarded the Peter Likins Inclusive Excellence Award for Staff from the Initiatives for Organizational Inclusion. This prestigious award honors those who have significantly contributed to enhancing the University of Arizona by creating a diverse and inclusive community. Jacy was nominated by the Department of Family and Community Medicine's Julie Armin, PhD, assistant professor, a colleague and mentor to Farkas.  
"In all that she does, Ms. Farkas is committed to institutionalizing diversity and inclusiveness; recruiting, retaining, and training diverse staff and students; and facilitating diverse perspectives and intergroup collaboration on campus," said Dr. Armin. "Furthermore, she is connected to national initiatives to increase diversity in the disability field, which informs her work locally, and she engages in ongoing training about inclusiveness and diversity, particularly in reference to intersectional identities and disability." 
"I am humbled by my colleague's surprise nomination and the committee's selection," said Farkas. "It is an incredible honor to be among the staff who have received this award."
Farkas joined the Sonoran Center in 2007 and became the center's training director in 2018, where she oversees the center's interdisciplinary pre-service preparation, continuing and community education programs. She also engages in community-based program development, research and evaluation addressing the transition to adulthood for youth with disabilities, particularly those who age out of foster care. In addition, Farkas serves on the board of directors of the national Association of University Centers on Disabilities, as co-chair of the association's Multicultural Council.
Her interests lie in the intersection of disability and other historically marginalized populations, community inclusion and successful adult living, cultural and linguistic competency, and information accessibility. Farkas has lived in Tucson for 21 years and is a Wildcat for life. She earned her bachelor's and master's degree at the UArizona and is currently a doctoral candidate in Family Studies and Human Development at the Norton School of Family & Consumer Sciences. She enjoys cooking and hiking with her husband, four-year old daughter and hound.
The award comes with a professional development stipend.