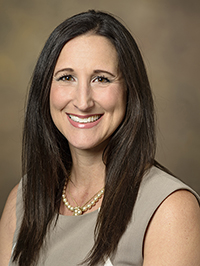 Allison Huff MacPherson, DHEd, assistant professor, is one of the team members on the new $26 million grant from the National Science Foundation to establish and lead a new National Science Foundation Engineering Research Center – called the Center for Quantum Networks (CQN). Core partners include Harvard University, MIT and Yale University.  
Dr. Huff MacPherson will serve as the director of the "Engineering Workforce Development" (EWD) pillar of the project, and will also be a researcher on the "Societal Impact Thrust" area of the project.
As the director of the EWD pillar, she will oversee CQN workforce and education efforts at UArizona and across all partner universities. She and her team aim to impact a diverse population of students, educators, and researchers by integrating research with education and industrial practice.
In addition, Dr. Huff MacPherson will work with co-leads Catherine Brooks (UA College of Social and Behavioral Sciences) and Jane Bambauer (UA James E. Rogers, College of Law) and researchers at partner institutions, to explore unanticipated societal impacts of the quantum internet.
CQN will be led by Principal Investigator Saikat Guha, PhD, associate professor, UA James C. Wyant College of Optical Sciences. The project will take on one of the great engineering challenges of the 21st century: to lay the technical and social foundations of the quantum internet.