In response to COVID19, Camp Wellness' focus has been to reduce the burden on hospitals, the Crisis Response Center, and urgent care centers for psychiatric and non-emergent health concerns, by continuing to offer services to people with serious mental illnesses, substance use disorders and general mental health conditions in Tucson and across southern Arizona.
The team quickly determined that telehealth wouldn't work for some members of this vulnerable population—due to limited or complete lack of access to the internet, or even to limited minutes on cell phones. In addition to the direct risks presented by the virus itself, Camp Wellness was highly concerned for those individuals at heightened risk for exacerbated symptoms of mental illness due to the abrupt loss of routine and the resulting isolation. The team was also concerned for individuals at risk for increased interpersonal conflict within their living environments and neighborhoods, increasing their risk of suicide, hospitalization, homelessness or becoming victims of domestic violence.
Camp Wellness recognized that when program participants ("students") and alumni aren't doing well, they often "show up" on the doorstep, looking for help. Camp Wellness strongly felt that it was critical to some team members to remain on-site to be a source of stability for those who need it most.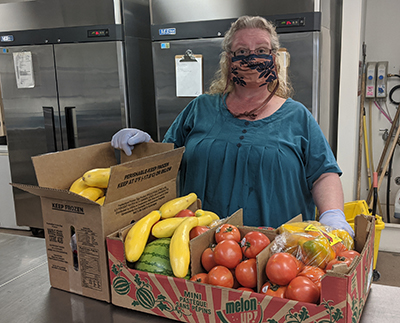 Camp Wellness quickly strategized to implement CDC recommendations, University requirements, and keep pace with evolving regulations. Team members contacted participants to identify their access to resources and determine whether they were safe to stay home during the day. The team worked together to quickly train participants arriving on-site on procedures for safely entering, exiting, and navigating the building, including temperature and symptom checks, ensuring 6 feet of distance at all times, sanitizing hands before entering and exiting rooms, and direct observation of proper handwashing technique before receiving a packaged lunch to take home.
Community members donated reusable masks for participants and staff to wear, and UA Facilities Management arrived to train staff on daily decontamination protocols using powerful disinfectants. The team worked quickly to modify the food service to comply with new regulations, serving lunches "to go," and to acquire and distribute emergency food boxes from the Community Food Bank. Camp Wellness revised the teaching schedule to include both audio-visual classes through Zoom for Health, and a separate audio-only track, through Zoom for Health. This distinction allowed facilitators to fine-tune their teaching methods to best meet their audience's needs.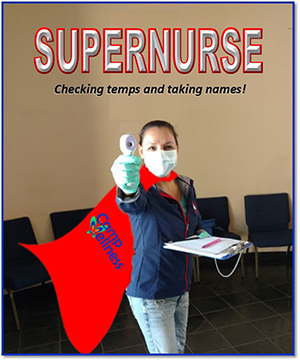 The Camp Wellness nurse provided individual consultations for participants who were considering seeking medical care at a hospital or urgent care, helping them identify whether their needs could be met with home treatment, through phone consultation with their PCP or behavioral health provider, or through telehealth services.
Camp Wellness team members have worked to help participants access telehealth services both on-site and remotely, helping students schedule appointments, logging into their provider's telehealth system, and when needed, facilitating dialogue between the student and their provider.
Camp Wellness is teaching participants how to access social media to stay in touch with friends and family members, and to access Zoom for Health, troubleshooting issues with connectivity, audio and video capability. Staff strive to lift participants' spirits through inspiration and humor in class and through videos and posts on social media.
For students who lack access to social media, phone chats and telehealth services, Camp Wellness has obtained affordable phones loaded with minutes and data, with FCM IT Support installing applications to help students most in need to stay connected.
The Camp Wellness team continues to identify new ways to meet the needs of this highly vulnerable population and welcomes ideas for additional opportunities. We are so grateful to the support we have received to help us achieve these goals.