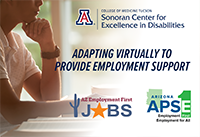 The Sonoran Center for Excellence in Disabilities is conducting multiple webinars focused on increasing competitive, integrated employment for people with disabilities.
Since April, the Adapting Virtually to Provide Employment Support webinar series has brought together state agency representatives, service providers, individuals, and families to learn about innovative approaches and engage in conversation to address many of the systemic issues impacting employment services and outcomes in the state.
Sessions have described the use of technology to address the current challenges imposed by COVID-19 and responded to the opportunities presented to influence change in the future of employment services.            
"These current times are challenging but they also hold great opportunity. If we take advantage of the technology that's already out there, we can have a paradigm shift in service delivery and find new and more effective ways to provide support," said Wendy Parent-Johnson, PhD, director of the Sonoran UCEDD.
Participants from around the state can earn a certificate of completion following the end of the series.
Webinar topics have included:
For more information, please visit bit.ly/adptvirtucedd