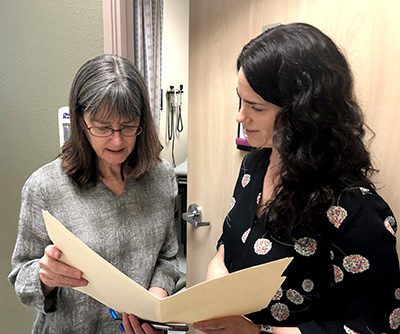 An 11-year-old boy with developmental delays is denied special services needed to address his disabilities. A 43-year-old man with severe health problems is denied disability benefits. A humanitarian refugee and her children lost their health insurance and don't know why.
These real-life examples illustrate some of the complex legal issues related to people's health. These issues, and hundreds more, have been successfully resolved through the UA's Tucson Family Advocacy Program, which provides free legal services to low-income patients.
TFAP was created in 2004 by Anne Ryan, an assistant professor in the Department of Family and Community Medicine, and also the program's director. A former nurse, Ryan decided to change careers and completed a law degree from the James E. Rogers College of Law, then served as an attorney in environmental law for eight years.
When she read an article about the first medical-legal partnership in Boston, Ryan was inspired by its model of lawyers and health care providers working together to improve the health of vulnerable populations.
Motivated by what had been accomplished in Boston, Ryan was determined to create the first medical-legal partnership in Arizona. She assembled a planning committee of local experts in law, health care and other social services who worked with her to make her idea a reality.
"I knew this would be a great way to combine my interests and experiences in the medical and legal fields," Ryan recalled, adding that the then-executive director of Southern Arizona Legal Aid encouraged her to develop the partnership. The program's planning phase was led by the Arizona Health & Policy Law Institute.
In 2005, Ryan joined the UA Department of Family and Community Medicine, where TFAP grew to include Medical Director Dr. Jessie Pettit, who is also an assistant professor in the Department of Family and Community Medicine, and Suzanne Teeple, TFAP's advocacy attorney.
Since then, Ryan and her team have provided services to qualified patients at Banner – University Medicine Family Medicine Clinic at Alvernon, and in 2018, TFAP expanded to Banner – University Medicine Family Medicine Clinic at South Campus. Their offices are located within the clinics so they are readily available to the physicians, staff, residents and patients in need.
In addition to providing direct patient services, TFAP also teaches health care providers, including family medicine residents, why and how to screen for legal and social barriers that can adversely impact patient health. These barriers include denials of health care coverage, unsafe housing conditions, domestic violence, medical powers of attorney, living wills and disability benefits.
"Calling an attorney to help with a health problem is not intuitive to many," Ryan said. "I want people to see the benefits that are possible when you reach out of your own field and collaborate with other professions and organizations."
In 2018, Ryan received the Sharon A. Fullmer Legal Aid Attorney of the Year Award from the State Bar of Arizona. This award recognizes a lawyer in Arizona "whose service to low-income people encompasses both aggressive advocacy on behalf of individuals in extreme need as well as impact advocacy designed to address systemic issues affecting significant numbers of low-income people."
"I was incredibly honored to receive this award and its recognition of the value of our medical-legal partnership team," Ryan said. "Moreover, I'm fortunate to work with colleagues who realize that some barriers to health cannot be remedied with traditional medical care alone. And in our family medicine clinics, that team includes lawyers."
Pictured above: Anne Ryan (Left) and Dr. Jessie Pettit discuss a case.