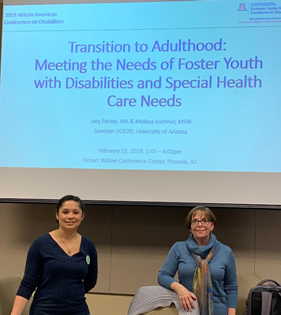 The transition to adulthood can be an exciting time, as well as one of many challenges. This is generally a unique period of change where youth take on more responsibilities and become more independent, finding their way in the adult world. The goal and hope is for all youth to be healthy, happy, self-sufficient, contributing members of society.
However, some youth face difficulties reaching these goals. Youth with disabilities who are also in the foster care system are among the most vulnerable populations, often falling through the cracks in the system. This can result in them not doing well as adults, having a hard time with employment, education, and health. It is estimated that 60% of youth 14 years and older in foster care have a disability or special health care needs (SHCN).
To fill the information gap and help youth navigate their way through the multiple systems to adulthood, the Sonoran UCEDD has partnered with the Arizona Department of Health Services, Bureau of Women's and Children's Health, Office of Children with Special Health Care Needs (OCSHCN) to conduct a needs assessment for foster youth with disabilities and SHCN. The needs assessment will explore the needs and availability of services, supports and other assistance for these youth in their transition to adulthood across state and tribal child welfare agencies in Arizona.



The project has four major objectives:
Establish an Advisory Group
Conduct a review of current services and supports available to foster youth with disabilities/SCHN and those who age out of care in Arizona
Collect and analyze data particularly focusing on health care, education, employment, community and independent living, decision-making and legal rights.
Share findings of the needs assessment through forums, reports, factsheets, and conference workshops.
Part of the data collection across Arizona will include a survey and focus groups in urban and rural areas for current and alumni foster youth with disabilities/SCHN, as well as the people who support them. Through our survey and focus groups, we hope to gain their perspectives on the needs and concerns of foster youth with disabilities/SHCN. We will create maps of ideas from the communities of interest in Arizona guided by stakeholders, people with an interest or concern in foster youth with disabilities/SCHN. The resulting maps can be used to guide planning, programming and research efforts on the issues that matter to our stakeholders. We want to make sure that youth voice is included and featured throughout the needs assessment process and results.
The goal of the project is to provide OCSHCN with a snapshot of the transition experience of foster youth with disabilities/SHCN in Arizona's state and tribal child welfare agencies. The information will help OCSHCN in developing its next five-year strategic plan. Our project will identify needs and issues of importance to develop a statewide agenda for serving foster youth with disabilities/SHCN in their transition to adult living and aging out of the child welfare system.
For more information or to get involved, contact:
Jacy Farkas, MA

Principal Investigator

jkbell@email.arizona.edu

520-626-2207
Melissa Kushner, MSW

Senior Program Coordinator

melissakushner@email.arizona.edu

520-603-3051