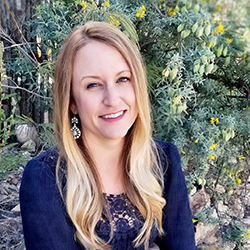 Congratulations to Jennifer Schultz De La Rosa, PhD, Associate Director of the Program Evaluation and Policy Research Group at FCM, and lead evaluator for FCM's Workforce Development Program, who has been accepted into the Greater Tucson Leadership Class (GTL) of 2019. Class activities will begin in August. 
Dr. De La Rosa is a methodologist and social network analyst whose research interests focus on the intersection of health care and the social determinants of health, including programs and policies that can help ensure self-determination for individuals and communities. An example is FCM's Workforce Development Program, which trains persons with lived mental illness, and/or substance use disorder experiences to become peer support specialists that help others with similar experiences realize their recovery goals. There, Dr. De La Rosa is developing an advanced evaluation system that links behavioral health theory with the analysis of billing records, staff performance measures, student outcome measures, focus groups, social network analyses, and survey analysis. She is also playing a lead role in the development of a new FCM, Workforce Development Program and Banner Heath collaboration that will bring peer support specialists into selected, large primary care clinics.
 "As we move into the era of integrated health care, providers are exploring practice innovations that empower individuals and communities to self-determine their own approaches to health and well-being," said Dr. De La Rosa. "I believe this opportunity with Greater Tucson Leadership will provide me with additional tools to develop new relationships and partnerships, share the good work Family and Community Medicine is doing, and amplify the voices and experiences of the communities we serve through a community-based participatory model of research and evaluation."
About GTL
Founded in 1980, GTL is a non-profit, non-partisan leadership organization dedicated to providing leadership education for the overall care of and commitment to the Tucson community for over 30 years. GTL hosts an annual leadership class in which class participants expand their knowledge of our region and become strong community leaders. It provides a platform to create understanding of community and critical issues, encourage discussion and problem-solving, cultivate appreciation for differing perspectives and inspire leadership at all levels of our community. It also offers professional development activities and leadership opportunities for our alumni. The strong GTL alumni network has been the cornerstone of GTL success in meeting its mission throughout the years.