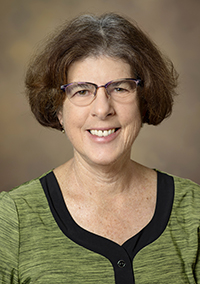 We are profoundly grateful for the 11 years of exemplary service from FCM assistant professor Leslie J. Cohen, JD. At the end of October, Leslie retired from her position as the inaugural director of the UA Sonoran Center for Excellence in Disabilities. Leslie led the center from 2007 – 2018. She will continue in her role as FCM's Interim Vice Chair for Community Engagement.   
"Leslie's contributions to the UA Sonoran Center and FCM are nothing short of remarkable," said FCM dept. chair, Myra Muramoto, MD, MPH. "The Sonoran Center has truly thrived under her leadership."  
For example, Dr. Muramoto explained, the Sonoran Center has helped thousands of individuals with disabilities through teaching, community education, model programs and outreach. Additionally, thanks to Leslie's direction, the center leveraged its core federal grant of approximately $500,000 to become a multimillion-dollar center, and it has continued to expand its activities and partnerships. The breadth of the Sonoran Center's partnerships are impressive, including community based non-profits, private business, state government, Native American tribes, and other UA academic units.  Leslie's leadership at the national level has also increased the visibility of the Sonoran Center on the state and national levels.
What's more, Leslie has had a positive impact on those she has led at the UA Sonoran Center.
"I joined the Sonoran Center a month after Leslie, and I've had the pleasure of the working alongside her for the past 11 years as she grew the center," said Jacy Farkas, MA, training and project director at the Sonoran Center. "Leslie's leadership and mentorship during her tenure as our first director supported my professional growth and commitment to this field. In addition, Leslie has cultivated more than 120 future leaders through the expansion of our interdisciplinary training programs. These programs provide students the opportunity to gain a greater understanding of the lived experience of people with developmental and other disabilities, and demonstrate how they can make an impact through research, practice and policy to expand opportunities for everyone to belong in our communities."  
To honor Leslie, FCM purchased a special engraved paver that will be displayed in the University of Arizona Women's Plaza of Honor. The UA Women's Plaza of Honor publicly and permanently celebrates women who have made significant contributions to the history of Arizona or have enriched the lives of others. FCM also gave Leslie a sculpture featuring three people. The first person is helping a second person and together, they are helping a third person climb up a cliff. "This sculpture exemplifies the essence of Leslie's leadership of the Sonoran Center and her career in the disabilities field," said Dr. Muramoto. "Leslie is one who does not seek titles or the limelight, but quietly goes about working through organizations, policies and partnerships that enable others to have an even greater impact on behalf of people with disabilities."
Leslie earned her Juris Doctor degree, cum laude, from University of New Mexico School of Law. Over her distinguished career, Leslie developed considerable expertise in disability law and policy, making countless contributions to the field of disability law. Prior to joining the UA, she was the executive director of the Arizona Center for Disability Law, Arizona's protection and advocacy system for persons with disabilities. She served in that position for more than 10 years. In addition, Leslie was a consultant to organizations in Arizona and nationally on a wide variety of strategic planning, management and substantive disability issues. She has provided leadership at local, state and national levels through participating on many boards and commissions, including the Arizona Developmental Disabilities Planning Council; the National Association of University Centers on Disabilities (president, board of directors), Primavera Foundation (president, board of directors) and Linkages (board member).
Throughout the years, Leslie has consistently demonstrated her commitment to people with disabilities, and has been a model and inspiration to those with whom she has led and worked. We are grateful!