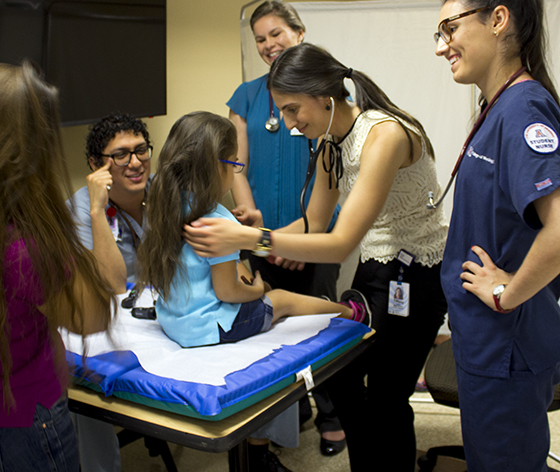 The parking lot is filling up fast at Child-Parent Centers on East 22nd Street, and so are the stairs leading to the make-shift clinic on the center's second floor.
Fifty-five families signed up ahead of time to bring their children here this morning, to get the physical exams they must have to enroll in Head Start and Early Head Start. The federal programs provide children under 5, from low-income families, with education, nutrition and other services to help them get ready for their first years of school.
Victoria Murrain, DO, associate professor of Family and Community Medicine, says she and her colleagues have provided these free clinics three or four times a year, for about 15 years.
"These are all kids who either don't have a primary care physician, or they can't get in to see their doctor before the deadline," Dr. Murrain says. "We usually see about 50 kids each time."
The clinics are inter-professional, staffed with medical students and residents in training to become family physicians or pediatricians, along with nursing students and pharmacy students. Dr. Murrain, and Family and Community Medicine physicians Krista Sunderman, MD, and Larry Moher, MD, are on hand to provide supervision.
"This is a great opportunity to work with a really in-need population. It reinforces the sense of community that's part of being a doctor," says first-year medical student Kylie Kenney.
Amalia Marines, mother of 4-year-old Emilio, says the clinic is a huge help to her and her family. "The people here are very, very nice," she says. "They help us keep up with immunizations and exams, and they tell us about things that we might not remember to ask."
Pictured above: A young patient receives a physical exam from the University of Arizona inter-professional staff.