Welcome to the UA Family Medicine Residential Fellowship in Integrative Medicine Program
Although integrative medicine is not currently an AGCME-accredited fellowship, it is possible to become board-certified in integrative medicine after completing our Family Medicine Residential Fellowship and subsequently passing the Integrative Medicine Board Exam.  
For this reason, our integrative medicine fellows serve as junior faculty in the Dept. of Family and Community Medicine. Fellows will care for patients independently, without direct supervision. This is a self-directed fellowship, and we hope that when questions arise about the practice of integrative medicine, you will contact one of the several physicians in our department who have completed an integrative medicine fellowship for guidance on any particular case.
Accordingly, because our fellows will be board-eligible in family medicine and will be practicing as junior faculty in our residency program, fellows may be asked to supervise family medicine residents in the outpatient clinic, and will have the confidence and expertise to do so (after a few months of direct patient care to get used to our system). Our program residency director, medical director and family medicine faculty support our fellows in their attending roles in this effort.
This is a full-time fellowship—50% of time is devoted to educational activities, and 50% to clinical activities.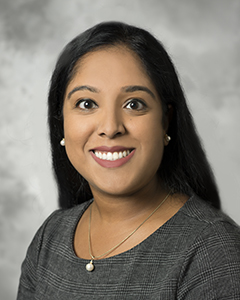 For more information, please email:
Angela Puthenveetil, MD
Fellowship Director, Family Medicine Residential Fellowship in Integrative Medicine 
aputhenveetil@email.arizona.edu