Research Volunteers Wanted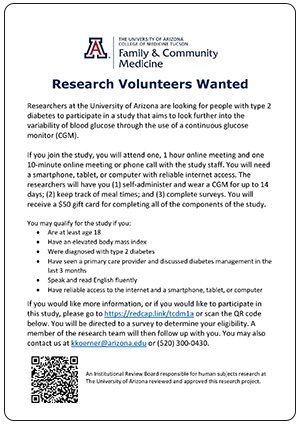 Researchers at the University of Arizona are looking for people with type 2 diabetes to participate in a study that aims to look further into the variability of blood glucose through the use of a continuous glucose monitor (CGM).
If you join the study, you will attend one, 1 hour online meeting and one 10-minute online meeting or phone call with the study staff. You will need a smartphone, tablet, or computer with reliable internet access. The researchers will have you (1) self-administer and wear a CGM for up to 14 days; (2) keep track of meal times; and (3) complete surveys. You will receive a $50 gift card for completing all of the components of the study.
You may qualify for the study if you:
Are at least age 18
Have an elevated body mass index
Were diagnosed with type 2 diabetes
Have seen a primary care provider and discussed diabetes management in the last 3 months
Speak and read English fluently
Have reliable access to the internet and a smartphone, tablet, or computer
If you would like more information, or if you would like to participate in this study, please go to https://redcap.link/tcdm1a. You will be directed to a survey to determine your eligibility. A member of the research team will then follow up with you. You may also contact us at kkoerner@arizona.edu or (520) 300-0430.
An Institutional Review Board responsible for human subjects research at The University of Arizona reviewed and approved this research project.