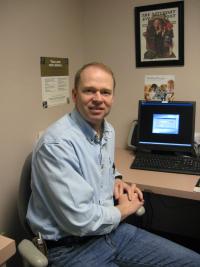 Daily number of family practice patients:
Hospital Affiliation:
Benson Hospital (approx. 20 beds)
Insurance Spectrum:
40% Medicare
10% AHCCCS
50% Private
Patient Population Profile:
Full range of primary care; winter visitors adult and pediatrics, no prenatal care or obstetrics
Site Specific Info:
Ambulatory clinic & nearby small hospital. Service area of approx 15,000 people. 4 other docs, 1 PA in town
Mileage and Housing:
Housing provided by FCM Clerkship at small local motel. Mileage compensation not provided by FCM.
Misc. Info:
2 FNP, 1 PA, 2 MD
Students are encouraged to present a brief verbal report to physicians and staff on a topic of medical interest
Comments from Students:
"San Pedro was absolutely wonderful! I got to see a wide variety of patients (inpatient and outpatient) and really got the feeling of a rural practice."
"Dr. Mayberry's greatest strengths are his dedication to students and patients. He uses a very realistic approach to problem solving. He has one of the best bedside manners I've seen when dealing with awkward topics."
"Dr. Mayberry is very enthusiastic about teaching. He taught me something related to every patient. He challenged me to commit myself to assessment and plan before presentation."
Comments from Faculty:
"I enjoy being in a small community and taking care of people who I know in the 'real world' - kids my kids go to school with, my neighbors, people I knew growing up. If you've been looking forward to the Family Practice rotation as an opportunity to learn what the specialty is like, even if you are planning on going into a different field, we're happy to have you."
Site Address:
San Pedro Family Care 890 W. 4th Street Benson, AZ 85602 United States