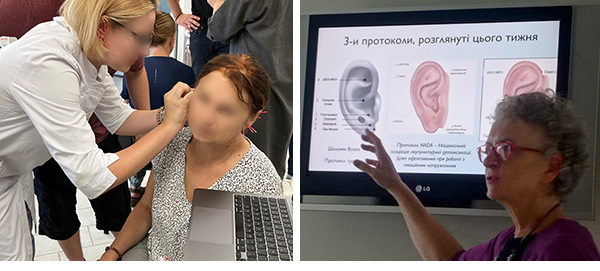 By Celia Hildebrand, DAOM, LAc, research assistant professor

When Russia invaded Ukraine on Feb. 24, 2022, my heart broke and I crumbled.
But crumbling is a luxury in the face of war. So first I grieved with friends and family. Then, I raged. Finally, I focused that energy and took action.
As a second-generation American, I recognize the Carpathian Mountains of southwestern Ukraine/ southeastern Poland as my maternal family home. In the past 20 years, I've made five trips to Ukraine and western Poland, to visit family and research and observe public health services and use of folk medicine of western Ukraine.
In March 2019, I received a Fulbright Scholarship, hosted by Uzhhorod National University (UzhNU) College of Medicine. The scholarship enabled me to create and teach a program of auricular acupuncture for pain, trauma, PTSD, and addictions. I had 24 "students"—medical doctors, counselors, soldiers, and veterans. We kept in touch after the program was completed, and my intention was to return and create a "Train the Trainer" program after COVID restrictions were removed.
Thus, on the day the war started, I wrote to my students and provided words of encouragement, reminding them about the powerful tools they had, with only 10 small needles.
Eight of them immediately responded. At their request, we started bi-weekly virtual meetings that began in late March. The first week was sobering and tearful, but we soon found a good stride and developed a schedule to review and expand their skills.
Eventually, they invited their Ukrainian colleagues to join us and I invited other eastern and western medical colleagues to make presentations. We discussed stress, trauma, how to work with wounded soldiers and civilians, pediatric needs, specific medical situations, elder refugees and patients, aromatherapy, homeopathy, meditation, and other topics.
I found opportunities to send supplies in suitcases with people I learned were traveling into western Ukraine.  More than 70,000 needles, thousands of ear pellets, and over 50 bottles of aromatherapy and medicinal oils and homeopathic medicines were shipped.  
In the early days of the war—when medications were unavailable for common and life-threatening conditions—we created trainings on use of local herbs and distilled oils to treat topical staph infections and heal wounds, reduce stress, calm hypertension, support digestion, and improve sleep.
By May, Uzhhorod's population, normally around 150,000, swelled to more than 450,000, from refugee resettlement.
My colleague and 2019 Fulbright host, Pavlo Kolesnyk, MD, of UzhNU's Family and Community Medicine Program, organized more than 30 refugee health centers and deployed medical students and residents to provide health care. He also successfully raised funds to build a large family medicine clinic within a former dormitory converted into refugee housing.
Meanwhile, the doctors I trained in 2019 were asking for more specific trainings to use acupuncture for soldiers and civilians who had been physically and emotionally damaged by the war.
I was growing increasingly concerned about my colleagues' mental and physical health, as I watched them in our meetings. An occasional air raid siren would erupt in the middle of a training. Some would move further into their apartments to be away from windows, and a few would be brought to tears.
From my perspective as the moderator/trainer, I felt overwhelmed by these experiences. But how could I possibly show more emotion than them? Instead, I sat with them virtually, and we did our best to stay calm together in silence and deep breathing. When the sirens ended, we resumed. In this way, we made it through those uncertain months.
An Opportunity to Travel to Ukraine
An opportunity opened to me in late July, as a portion of my work with the University of Arizona and Banner was coming to an end. This ending opened the door for me to travel as a volunteer to Ukraine, and I made plans to travel in mid-August for two weeks.
I gathered resources and funding, received donations of equipment, and worked with two former local acupuncture students, to develop a new curriculum and translated materials into Ukraine.
Four of the Ukrainian doctors I trained in 2019 had previous acupuncture training. They asked for the first week to be their own "Masters Class" in advanced acupuncture techniques and clinical grand rounds with themselves, family members, and patients.
In exchange, they agreed to be my co-trainers for the second week of trainings with new MDs. One of my translators from 2019 – now a practicing MD specializing in rehabilitation medicine - reached out and asked to translate again.
In the week before I left for Ukraine, warnings reached me from military friends in Poland about Americans in Ukraine being openly surveilled and there was a rising concern about an increase in kidnappings. Although I felt relatively safe from bombings in Uzhhorod, as it is the western-most city of Ukraine, I had a gut feeling that their concerns had merit, so I paid attention.
Friends drove five hours from Uzhhorod to meet me in Budapest, to ensure my safe transit. With a letter of sponsorship from Uzhhorod National University in hand, and a complete inventory list of the acupuncture supplies and other equipment in my luggage I had no trouble crossing the Hungarian-Ukraine border. After that point I was never left alone. I lodged in the apartment of one of the doctors. A third-year medical student who wanted to practice English became my private driver, and an interpreter accompanied me 100% of the time I was outside of the house.
On the second day in Ukraine, one of the lead surgeons from a hospital in Uzhhorod, invited me to treat a few soldiers and civilians wounded by bombs, bullets and shrapnel.
From that point on, we held grand rounds in the hospital every morning, and doctors observed (and participated in) needling techniques, e-stim, laser, guasha, cupping, tuina, and scalp acupuncture.
The difference in the soldiers and the growing enthusiasm in the hospital ward was palpable and obvious to us by the end of the first week, even on days when air-raid sirens were blasting and reminding us of the ever-present threat.
One hospital patient in particular stands out. He was a soldier wounded by shrapnel from a bomb. His right gluteus medius, hamstring muscles and sciatic nerve were severely damaged. His buttocks wound wasn't healing two weeks post-surgery, and the scar from the surgical incision stretched from his glutes to approximately four inches above his knee. He had no muscle strength or control on his right leg. His right foot dangled without control, and he could not stand without support. The hospital had no adaptive equipment for him except for a cane, and no physical therapy was available. The surgeon gave us the case because he had nothing else to offer and felt we could "do no more harm" than what was already done.
My treatment for this soldier included auricular and body needles, e-stimulation on both body and scalp acupoints, cold red-laser applied to the buttocks wound and scar tissue, guasha on the leg and foot, and tuina, using medicinal oils. He was treated every day for 10 days, and we gradually incorporated isometrics and other exercises.
Within three days of initiating treatment, his thigh and calf muscles were noticeably stronger on palpation. By the tenth day, he could stand, with the use of a cane. The scar tissue was significantly less inflamed, but the buttocks wound was only moderately improved.
He is now in Germany undergoing therapy, and hopefully on the way to a more positive recovery.
On my fourth day in Ukraine, UzhNU's Rector and neurosurgeon, Volodymyr Smolanka, MD, met with Dr. Kolesnyk and me to discuss the training.
In that meeting, Dr. Smolanka gave his enthusiastic approval for the next week of training with the new doctors. He officially brought the training under UzhNU's umbrella and approved the curriculum for 14 medical PDAs, so the attendees would receive credentialing to perform these procedures. With his approval, and now formally under recognition as guest faculty within the College of Medicine, I received permission to treat and perform acupuncture, an authority granted only to MDs in Ukraine.
He also invited me to return to Uzhhorod next spring, to teach elective coursework within the school's medical curriculum, in English. 
In the second week, the official curriculum began, and my four co-trainers and I trained 12 new MDs in auricular acupuncture.
A psychiatrist from the front line joined our group, after burying her husband the day before. Another doctor in the training from Kharkiv – a refugee herself – took our group to the refugee center where she was working, and we helped set up a community-style auricular acupuncture clinic for women and children.
We also trained a soldier and an army medic we met at an outdoor café, in the use of auricular acupuncture. It was a spontaneous event; they were heading back to the frontline and invited me and two of the students / to sit with them. We demonstrated the needling procedure and discussed its benefits while the medic filmed the process.
We then filmed the medic with his phone, as we talked him through performing the same protocol on another person. We handed them all our supplies, and they left to return by train to the front line with enough needles to treat 400 soldiers. I heard from them a few days after returning to the front line but unfortunately, after recent bombardments, we have not received any additional news from them.
For two weeks I was immersed and often uplifted by the courage, determination, grit, and compassion of the people I encountered.
I am happy to say we now have over 30 MDs and a few soldiers and medics trained in using auricular acupuncture for trauma, anxiety, PTSD, and pain. We continue bi-weekly meetings and welcome other practitioners to join.
If you are interested in learning more, please contact me at celhildebrand@arizona.edu.