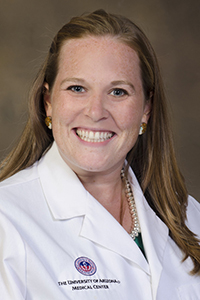 Prospective Residents,
Congratulations on the next step of your journey to becoming a family physician! At the University of Arizona College of Medicine -Tucson (South Campus) Family Medicine Residency Track, our mission is to train full-spectrum family physicians from diverse backgrounds, who are dedicated to social justice, health equity, and providing care for vulnerable populations and communities in rural and underserved areas of Arizona and beyond. In our program you will receive a strong, full-spectrum training and will be equipped to practice medicine in any setting when you graduate.
We have a blend of training opportunities within Banner Health and in rural Arizona. Our residents train at Banner University Medical Center-South (BUMCS) and at the university-based, tertiary-care Banner University Medical Center – Tucson hospitals. BUMCS was previously the county hospital of Tucson until 2005 and continues to serve a diverse population today. Our ambulatory training includes our family medicine clinic and rural sites, as well as time working in our refugee clinic and prenatal mobile health clinic for uninsured and under-insured patients.
To meet our mission, all of our residents rotate for a minimum of 16 weeks in family medicine, emergency medicine, and obstetrics at various rural hospitals and clinics throughout the state with funding support from Arizona Area Health Education Centers (AHEC). Because of the large percentage of residents that go on to practice rural medicine after training at our program, we have received rural recognition by the National Rural Training Track Collaborative for the last 3 years. Most of our alumni currently practice in Arizona or rural underserved communities throughout the United States and world. We have a growing number of alumni providing medical care internationally after completing our Global Health Track during residency.
Our curriculum is guided by residents' experiences and is designed to provide them with the knowledge and skills to provide culturally competent care to our diverse patients across their lifespans. As part of our curriculum, we have longitudinal threads on resident well-being and resiliency, point of care ultrasound (POCUS), health-care disparities and advocacy, as well as quality improvement and patient safety. In addition to the basic curriculum, we offer the option to apply for the following distinction tracks: Global Health, Spanish Language/Health Care Disparities, Integrative Medicine, and Obstetrics.
Our rural rotations will take you to many beautiful places in Arizona, but the roots of our training are in the city of Tucson. Tucson is a small city with a lot of character and a big heart. It is uniquely located close to the US-Mexico border, with easy access to nature, surrounded by mountain ranges on all four sides.
Of special note, while the COVID19 pandemic has greatly impacted our state, local community, rural sites, academic training institution and residency, the University of Arizona College of Medicine – Tucson Family and Community Medicine Department, and our residency program have been integral in meeting our community and patients' needs during this time. Our residents and faculty are uniquely equipped to work in most clinical settings and have become clinical and operational leaders during this great time of need. I could not be more proud to work alongside our residents and faculty at this time and always, and can think of no better team to be a part of during a pandemic.
We have a saying in Tucson, that once you come to visit, you can never quite get the sand out of your boots, and it keeps you coming back. It might be the amazing sunrises and sunsets, or the smell of the desert after the monsoons, or the warmth of the people who live here. We recognize that this recruitment season is a bit different being virtual but do hope that we have the opportunity to show you why we love calling this place and our program home.
Best Wishes,
Elizabeth "Kyle" Meehan, MD        
Program Director