Mission Statement
Our mission is to train residents in the delivery of comprehensive, cost-effective, and sustainable medicine in underserved areas domestically and abroad. We believe that all people have a right to equitable, culturally sensitive healthcare, and we will continue to advocate for the social justice of our patients worldwide.
Goals
Predominantly completed during the 2nd and 3rd years of residency, the track offers opportunities to develop expertise in the diagnosis and treatment of common tropical conditions and diseases, and to expand clinical knowledge and management skills in preparation for work in areas of limited resources.
Our residency program is designed to train physicians to practice in any part of the country and to provide the basis for work abroad, even in the most challenging medical sites. Our residency program's core curriculum includes multiple rural rotations in a wide array of culturally diverse settings.  These communities often lack access to other specialties or major medical centers. Because of this, residents completing the global health track have multiple opportunities to develop and acquire the medical and communication skills needed for work abroad while working in remote areas of Arizona.
Objectives
To develop clinical leaders in global health that are dedicated to reducing health disparities in medically underserved communities both in the U.S. and internationally
To gain a framework for improving health of individuals and communities in resource limited areas
To learn about tropical diseases found both in the U.S. and abroad
To learn about and experience different cultures and increase cultural awareness
To improve basic clinical and diagnostic skills to better function in resource limited areas
To experience different health care systems
To create more awareness about public health in rural areas in the U.S. and abroad
   
Timeline
1st year      
Decide to apply to track in January of Intern year.
- Please note that any resident, not only those participating in the Global Health Track, may do away or international electives as long as the electives meet ACGME requirements and are approved by the residency program in advance.

Attend monthly global health meetings that are organized by 2nd and 3rd years in our track and are open to all global health residents from Emergency Department, Pediatrics, and Family Medicine.
2nd year       
Take

Global Health Course 

-Taught and organized by Dr. Ronald Pust for the last thirty-two years

-Attended by residents, physicians, nurses, public health students, and medical students from North America

-Subjects covered include: public health, tropical disease, parasitology, HIV, TB, chronic diseases in international setting, women's' health, child health, epidemiology, and numerous other relevant topics.

Meet with our global health mentors monthly to discuss the track and plan teaching days and journal clubs.
-Our mentors include Dr. Ronald Pust, Tracy Carroll, PT, Dr. Jerome Koleski, and Dr. Sommer Aldulaimi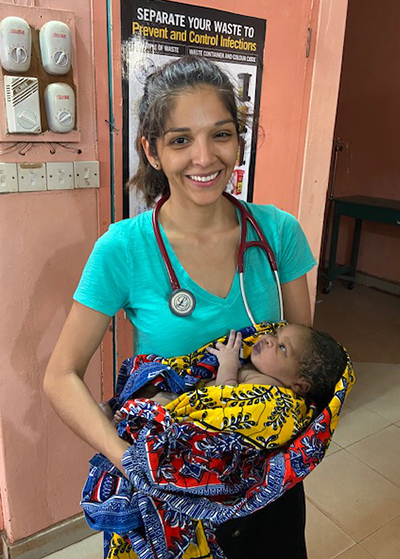 Attend monthly Journal Clubs pertaining to international health topics and organize a portion of them

Organize quarterly Teaching Day Lecture Series with a global mentor
-These are resident-led didactic sessions dedicated to international health topics such as tropical medicine during regular resident teaching day.
-Global health is a thread that is woven into the program's regular didactics

Border Health: Quarterly opportunities to participate in trips to the U.S.-Mexico border through organizations such as Borderlinks, Flying Samaritans, Manos de Ayudas, and others.

Participation in at least one Hansen's (Leprosy) Clinic at the Phoenix Health Department with Dr. Ronald Pust and Tracy Carroll, who are leading experts in Leprosy.

Attendance to a global health workshop or conference during either 2nd or 3rd year
3rd year
A minimum of 4 and a maximum of 8 weeks of international clinical experience
-Residents are free to choose the location, as long as ACGME requirements are fulfilled, but are strongly encouraged to use sites well-known to our university's global health leaders. Faculty will help establish contacts and develop the plan and goals for the rotation.  There must be some inpatient component.

QI/Research Project on a global health topic or when away on global health rotation
-Additional projects of interest may be completed on a global/international health topic.
-Must present a poster at the Annual GME Scholarly Day at South Campus to complete the track.
Continued attendance at monthly meetings and journal clubs

Mentoring 1st years interested in global health and 2nd years currently enrolled in the track

Participation in the global health track as mentors for medical students

Additional border health trips
Where in the World have our Residents gone?

Mexico-Nogales, Sonoyta, Hermosillo, Chiapas, and others
Ecuador-Riobamba and Cuenca
Nepal
Northern India
Argentina
Namibia
Uganda
Vietnam
Caribbean Islands
Dominican Republic
Cameroon
Canad
Tanzania
Ghana
Marshall Islands