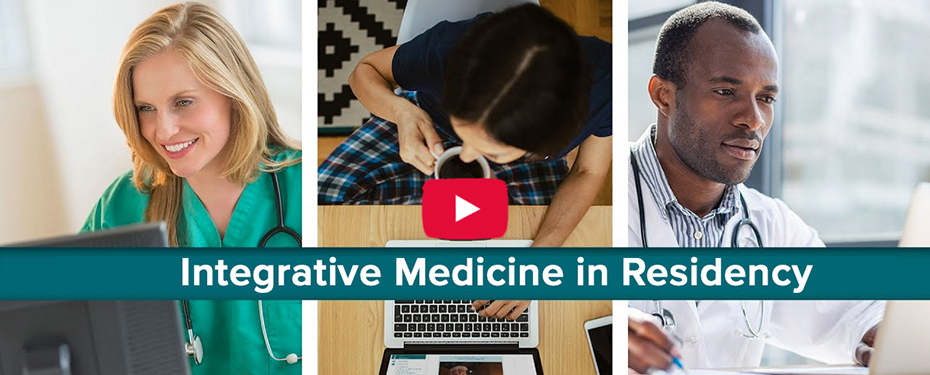 The Integrative Medicine in Residency (IMR) program is included in the curriculum of Family Medicine residents at the University of Arizona. A 150+ hour, competency-based curriculum, developed by the Arizona Center for Integrative Medicine, the IMR provides valuable knowledge in the emerging field of integrative medicine. Integrative medicine's goal is to deliver healing-oriented medicine that takes account of the whole person – including all aspects of lifestyle. It emphasizes the therapeutic relationship between practitioner and patient, is informed by evidence, and makes use of all appropriate therapies.
The IMR curriculum covers integrative approaches to prevention and chronic illness management providing evidence-based content in: lifestyle medicine and behavioral change, nutrition and dietary supplements, botanical medicine, mind-body approaches, environmental health, manual medicine.  In addition to the core online curriculum, all residents participate in on site lectures and experiential activities.
The Defining Principles of Integrative Medicine
Patient and practitioner are partners in the healing process.
All factors that influence health, wellness, and disease are taken into consideration, including mind, spirit, and community, as well as the body.
Appropriate use of both conventional and alternative methods facilitates the body's innate healing response.
Effective interventions that are natural and less invasive should be used whenever possible.
 Integrative medicine neither rejects conventional medicine nor accepts alternative therapies uncritically.
Good medicine is based in good science. It is inquiry-driven and open to new paradigms.
Alongside the concept of treatment, the broader concepts of health promotion and the prevention of illness are paramount.
Practitioners of integrative medicine should exemplify its principles and commit themselves to self-exploration and self-development.

To complement the online curriculum, on-site activities include:
Dedicated Integrative Medicine days during Core Weeks
Hiking
Yoga
Qi Gong
Cooking and hands on nutrition training
Motivational Interviewing training
Meditation
Energy Medicine
Mindfulness activities
Resiliency training
Integrative Medicine Lectures in Core Didactics
…and more!!!