The overall objective of the University of Arizona Family Medicine Residency is to meet the standards of the Residency Review Committee (RRC) for Family Medicine of the American Council on Graduate Medical Education (ACGME). The specific curricular objectives for multiple topic areas have been developed as separate documents and appear below in the rotation schedule.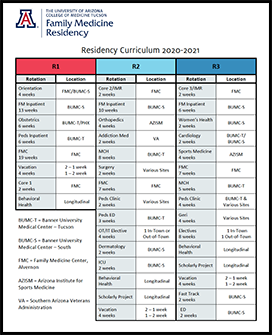 The following goals are descriptive of the desired performance for graduates of the residency after participation in the multiple curricular areas after three years of residency.
Goals
To provide residents with the knowledge, skills, and attitudes that will equip them to:
Provide comprehensive, cost-effective and continuous health care to their patients and families

Be cognizant of the dynamics of the family in each individual's health problems, and vice versa, the influence of the individual's health on the family's behavior
Provide comprehensive care (e.g. for well and sick children; for adults and the elderly; for pregnancy; with ambulatory procedures; including behavioral, psychological and social issues)
Provide accurate diagnosis, appropriate treatment, and timely referral of patients
Provide quality ambulatory, inpatient and emergency care
Coordinate all health care services received by their patients and families
Effectively utilize the skills and information provided by other members of the health care team (allied health professionals, for example, nurses, nurse practitioners, physician assistants, clinical pharmacologists) to the benefit of the patient, the family and the community
Be capable of practicing in urban settings including the differing relations with consultants, continuing medical education opportunities, stabilization and transportation issues, etc.
Mobilize the resources of the community to improve the health care delivery system
Manage an office practice in all settings (urban, rural and suburban)
Provide themselves with a system of ongoing medical education while in practice
Be cognizant of present and future major health care issues and their impact on society as well as the medical profession
Recognize their own limitations and deal with them effectively
Three-Year Curriculum Rotation Schedule, click here to view >>
Longitudinal course(s):
The Integrative Medicine in Residency is a 150+ hour, competency-based curriculum covering integrative approaches to prevention and chronic illness management. It provides evidence-based content in:  lifestyle medicine and behavioral change, nutrition and dietary supplements, botanical medicine, mind-body approaches, environmental health, manual medicine.