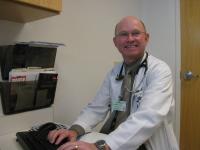 Daily number of family practice patients:
Flex Time Activities:
Weekly Nursing Home rounds
Night and weekend hospital call
Hospital Affiliation:
Sierra Vista Regional Health Center
Patient Population Profile:
Hispanic, AHCCCS, Military, Retirees.
Residency Info:
Internal Medicine residency at hospital. Student can round with Attending and residents and be involved in teaching rounds. 100% with attending.
Mileage and Housing:
Housing provided by FCM Clerkship in an apartment in Sierra Vista. Mileage compensation not provided by FCM.
Misc. Info:
Traditional Family Medicine office
Hospital rounds every day 8-9am, clinic 9am-5pm. Average 4-6 patients/day in hospital.
Comments from Students:
"I learned a lot, and got to hone my skills like pap smears, and small
procedures."

"Diversity of patients, and got to practice in a clinic, hospital and
nursing home setting"
Comments from Faculty:
"I am a traditional family practitioner."
Site Address:
Ralph Mayberry, MD 1800 E. Wilcox Dr. Sierra Vista, AZ 85635 United States